Photo Friday Challenge "Analog"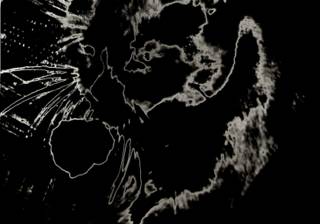 No, this is NOT an evil moose-man. This is a picture of my cat, Pooch cleaning himself. Can you see it? I posted this picture originally a while ago, but since I haven't taken photo class, I haven't used film in a long time. I took this about 2 years ago. It's hard to see at first. This picture was pretty dumb regularly, but the solarizing of it makes it more interesting. They said that for this challenge, the process was the challenge, so...I thought this picture would be appropriate because I developed the negatives, picture, and solarized it all myself in the black/darkrooms in my photo class. No computerized-ness on this picture.
I originally had an idea for a picture I wanted to take for this challenge, but I was unable to get film in time so I took it with my digital camera. This is what it came out like:
http://throughthelensofme.blogspot.com/2004/08/this-is-my-favorite-one-of-them-all.html
.
But anyways......yeah. That's it. Tell me what you think, please. :)